Professores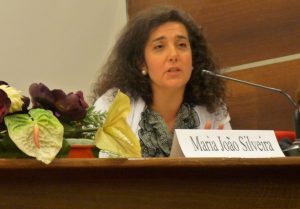 Maria João Silveira, PhD
(Outgoing – Erasmus+)
Università degli Studi di Firenze, Dipartimento di Scienze per l'Economia e l'Impresa
Corso di Turismo (Economia e Storia dell Turismo) (21 a 26 de october 2019)
Topic(s) of the proposed lecture(s):
The generations Y and Z
Contemporary Thought
The «optimal experience»: happiness and sense of life
The rights of the individual
The new tourism markets. Ex: The creative tourism.
Brief description of the lecture(s):
The contemporary world is eclectic and versatile. Today, the predominant mentality is deeply focused on the individual's emotional profile and not in their social status. The choices of the Millennials are based on the concept of ' optimal experience ': this experience, which comes out of the usual model, is attractive for personal reasons, of psychological nature, and must mark values, leaving lasting affective impressions and open to human diversity. Nowadays, the market, in general, and the tourist market, in particular, face the great challenge of originality, individuality and creativity. These requirements (which are noted in the context of tourism) can constitute a phenomenon of human development and, even, as an active protection of Human Rights, if we can understand and protect it. It is also important to note that those experiences, can contribute to poverty reduction and the integration of local communities into the benefits of tourism (Richards, 2014). Recent research identified that, also, poor communities can benefit from this type of tourism by providing interactive daily experiences for visitors (Dias, et al., 2018). From this point of view, poor communities can benefit from creative tourism by creating and expanding value perception of their touristic offer.
Agamben, G., Badiou, A., Žižek, S., Jacques R., Jacques, N., Jean-Luc, W. & Bensaid, D., Ross, K. (2012). Demokratie? Eine Debatte. Berlin, Paperback.
Beilharz, P. & Zygmunt B. (2000). Dialectic of Modernity. London: Sage.
Dias, A., Patuleia, M., & Dutschke, G. (2018). Shared value creation, creative tourism and local communities development: The role of cooperation as an antecedent. Portuguese Review of Regional Studies, nº 51, 10-25.
Lipovetsky, G. (2017). Plaire et toucher: Essai sur la société de séduction. Paris: Gallimard.
Richards, G. (2014). Creativity and tourism in the city. Current issues in Tourism, 17(2), 119-144.
Smith, D. & Zygmunt, B. (2000). Prophet of Postmodernity (Key Contemporary Thinkers). Cambridge: Polity Press.
Luiz Moutinho, PhD
Master Class Tourism – Artificial Intelligence and Smart Cities
The future of the futures…
(9 december 2019)